What's going on at Sámara Pacific School? Our school blog keeps everyone informed about our children's learning progress, fun activities and events, new projects and our school enhancement.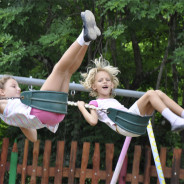 Thanks to our committed parents, teachers and volunteers we were able to enhance the children playground.
Take a look here: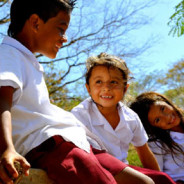 We are almost there… one more working session with some of the parents and we will be done with the ceiling and handrail of the ramp. Then we only need to install the remaining lamps and fans and with that we will be ready for the "DIEE's" visit. Yepee!!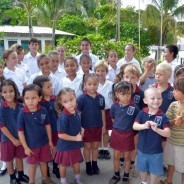 May 2013 Samara Beach has been awarded a Blue Flag -"La Bandera Azul" – a symbol awarded to praise ecological practices and protections and community efforts, and our kids proudly participated.
"Being awarded a Blue Flag is a high honor for a community. The certification is monitored with daily and monthly checkups on tasks the beach communities are responsible for. They must score a 90% on all requirements to get and keep a Blue Flag. The categories judged are ocean water quality, potable water quality, quality of coastal sanitation areas, garbage, and garbage containers, treated waste and run-off water, environmental education, and security and administration.
In the first year, only 10 beach communities made the cut. In 2013, 90 beaches were added! Some of these include Manuel Antonio, Conchal, Tortuguero, Manzanillo, Santa Teresa, Guiones, and Samara. Punta del Madero Beach and Punta Blanca received all 5 stars associated with the Blue Flag! They received special acknowledgements for additional benefits of their communities including disabled access, recycling initiatives, rescue teams, security, and car restrictions. Consider looking for a Blue Flag beach community for your next Costa Rican vacation. " Read more about it here "What is the Costa Rica Blue Flag Program?"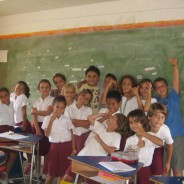 Today again many parents came and helped complete the school…Today many things were accomplished: the entire classroom got painted;  half of the roof over the ramp was put up; the front gate was sanded, painted with anti corrosive paint and most of the wooden boards sanded,  attached and painted; a bathroom door and faucet were repaired;  tons of weed got plucked; dust stoppers attached to the doors and a lot of good and profound cleaning done. It was an amazing day. Thanks so much everybody!!! You did a great job!!!